JOSEPH COTSIRILOS is a writer & cartoonist. His work has appeared in Ashcan Magazine, Aviary, Inter-Connected-Circles, On Verge, and anthologies like Not My Small Diary. He won the Ara Jo Memorial Fund Grant in 2018 and has exhibited at Rose City Comic Con in 2019 - 2022, where he presented panels on LGBTQIA+ comics. Work of his has been collected by the EBABZ Digital Zine Library (link) and the Rock Paper Scissors Zine Library, as well as being featured on Tumblr's homepage, art galleries, and numerous comic book conventions.
Contact: pencilsandrocketships@protonmail.com Newsletter.
Scroll down for full CV.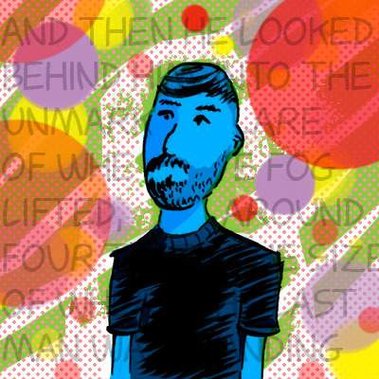 AWARDS/FELLOWSHIPS/RESIDENCIES
Hugo Award Committee (2018)
Ara Jo Memorial Fund Grant (2018)
PANELS/SPEAKING EVENTS
Rose City Comic Con - Having Pride Under The Shadow of Hate: LGBTQ - Panel & Guest Speaker (2022)

San Francisco Zine Fest - Virtual (2022
Afro Comic Con - LGBTQIA+ Comics - A History, and A Reason to Contribute - Panel (2021)
Rose City Comic Con - LGBTQ+ Mini Comics - How to start and continue - Panel (2021)
Rose City Comic Con - Individual Interview (2021)
San Francisco Zine Fest - Show & Tell - Panel (2021)
Afro Comic Con - Individual Interview (2020)
Afro Comic Con - Individual Interview (2019)
Alternative Press Expo - Individual Interview (2017)
COLLECTIONS
EBABZ Digital Zine Library (link) (2021)

Rock Paper Scissors Zine Library - Feature (2018)
PUBLICATIONS

Syzygy Magazine Vol. 2 (2022)

"Earth Lines" (2021)
"Syzygy" Volume 1 (2021)

"Pancake Music". Not My Small Diary #20. (2020)

Guttermind Podcast Episode 1. Podcast. (2019)

Interview - Jason Martin - Guttermind Podcast (2019)

Sleeping Backwards. Graphic novel & collection. (2019) [self-published] [out of print]

"Not so Fast My Dear". Inter-Connected-Circles #5. (2019)

"Two Small Stories". Rock Paper Scissors Collective. (2018)

My Growing Years. Graphic novel & collection. (2017-2018) [self-published] [out of print]

The Basketball Minotaur (2017) [self-published] [out of print]

The Bridge. Graphic novel. (2017) [self-published] [out of print]

Dent 1-14 (2017) [self-published] [out of print]
Midwest. Collection of photography. (2017) [self-published] [out of print]

"The State of Comics: They've Become Time". On Verge. (2016)

"Art In A 21st Century: Robert Lansden". On Verge. (2014)
Boys Moving. Novel. (2014) [Bard College Digital Library]
"Julian Macabee" Aviary. (2013)
EVENTS & EXHIBITIONS

Rose City Comic Con - Guest Speaker (2022)
San Francisco Zine Fest - Virtual (2022)

San Diego Comic Con - Cartoon Art Museum Sketch-A-Thon (2022)
Rocker Paper Scissors Collective - Group First Friday Showcase (2022)
Afro Comic Con (2021)
Rose City Comic Con (2021)
San Francisco Zine Fest (2021)
San Diego Comic-Con - Cartoon Art Museum Sketch-A-Thon (2021)
Community of Writers Workshop (2021)
Release Party! Syzygy Magazine Volume 1 (2021)
The Studio Shop (2021)
Rose City Comic Con (2020-3/2021)
AwesomeCon (2020-3/2021)
East Bay Alternative Book & Zine Festival (2020)
Berkeley Pop Up Show (2020)
Afro Comic Con (2020)
Snow (2020)
Graphic Wonderland: Showcase (2019)
Holiday Pop-Up Show (2019)
Jungle Show 3.0 (2019)
Rose City Comic Con (2019)
San Francisco Zine Fest (2019)
Community of Writers Workshop (2019)
Rock Paper Scissors Event: We're Here (2019)
Zinefest: Show Me Your Stories (2019)
Mission Art & Comic Expo (2019)
Syzygy Collab Art Show (2019)
WonderCon (2019)
Cosmos Show (2019)
Homegrown Beats (2019)
Pre-Code Horror: Exhibition Reception and Halloween Party (Assisted with Cartoon Art Museum) (2019)
Batman: The Definitive History book release party (Assisted with Cartoon Art Museum) (2019)
Sakura Inktober Sketch Night (Assisted with Cartoon Art Museum) (2019)
Making Faces with John Kascht and Academy Award-winning director and Pixar's Chief Creative Officer Pete Docter (Assisted with Cartoon Art Museum) (2019)
December Showing (2018)
East Bay Alternative Book & Zine Festival - EBABZ - Showing via RPSC & Ara Jo Memorial Fund grant (2018)
Holiday Pop-up Show (2018)
Extremely Graphic: Showcase (2018)
AfroComicCon (2018)
October Art Show: Occult (2018)
Oakland Print Fair (2018)
San Francisco Zine Fest (2018)
Syzygy Academy Exhibition (2018)
Afro Comic Con (2017)
Alternative Press Expo (2017)
WonderCon (2015)
Alternative Press Expo (2014)